The Lull mattress is nearly a new brand which sold online only like many other mattresses which are the main tendency in modern life. Its goal is to produce a mattress which can adapt to all body types and sleeping positions. Well, I don't know how other people think, but I just said this mattress is fitter for me as I felt more comfortable than other mattresses I reviewed before. It is also a bed-in-box, like Helix mattress, which is a hybrid mattress (latex+ memory foam), also been treated as one of the best mattresses for back pain.
The structure of the Lull mattress
 Layers
The Lull mattress is a totally 10" memory foam mattress with 3 layers
The top layer–a 1.5" of gel-infused, viscoelastic memory foam. Polyurethane foam with slow recovery is the main character of memory foam. It is a high-quality foam to balance weight under the surface of the contact pressure, to provide soft support in a position maintain and keep you less tired. You can see many very small holes on this layer, which do not absorb heat and makes airflow, to keep you a great cool feeling when you lean on the surface. And this layer also provides you a good pressure relief for every point of your body to keep you comfortable.
The middle layer–a 1.5″of common memory foam. This is a transitional layer that works to support your body, to gives you a good spinal balance and weight distribution. The bounce with the top layer is also very well. It can return original shape quickly no matter how to push on them.
The bottom layer–a 7" of highly support foam. It is made of polyurethane, which is the base foundation of this mattress. It works together with the top two layers and gives you great support of your body.

Cover
The cover of the Lull mattress has a soft touch with two colors, the gray side panels and white fabric on top, which gives you a very common modern look. The cover is also very thin, combined with the top layer, providing a breathable and cooling mattress. The cover is made of polyester and rayon, make the touch is soft. Moreover, the Lull is cooler than Hyphen I've reviewed before, so I like it better. And the cover does not lack elasticity. You can tear it from every side with high-quality durable. And the most important, the cover of the Lull mattress is removable, you will not worry how to clean when it dirty at all.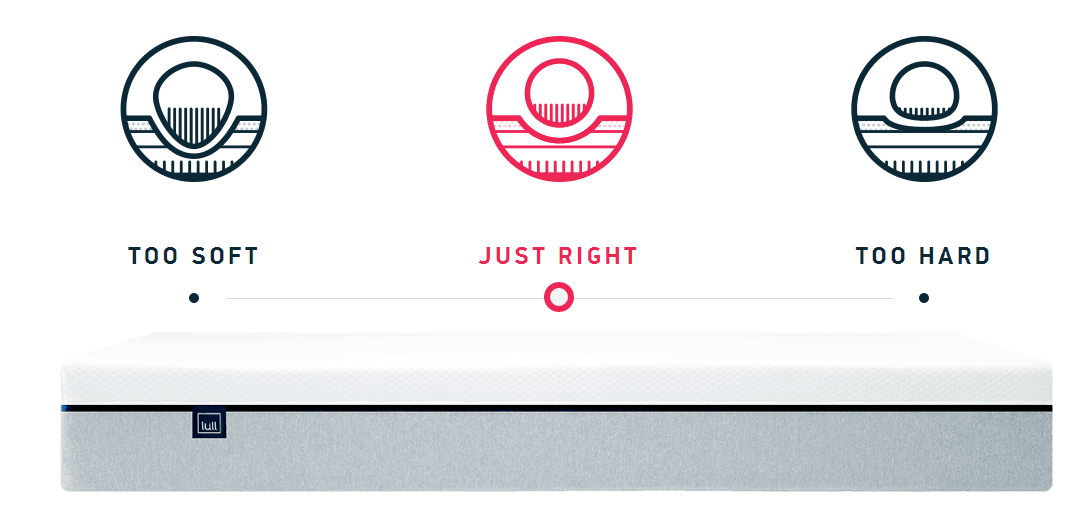 The advantages of the Lull mattress
The Lull mattress is little firmer memory foam mattress. Unlike other 6" out of 10" scale, with 10" being the most firm, it is 6.5" of 10", a little firm than medium feeling mattress. Which means, it will not hard as common spring-mattress either too soft like a most memory foam mattress. No matter for stomach sleepers, side sleepers, back sleepers or even heavier sleepers, it offers greater support. So this is why I said the Lull is suitable for me before as I am a little heavy, hot-scared woman which felt a strong support and comfort cooling feeling for my body without too much sink.
As mentioned before, like a memory foam mattress, the Lull is good for your spinal balance healthy. If you have back-pain trouble, neck-pain trouble, etc, it can balance your back, your neck, your points of your body to a fine line, gives you a healthy sleep at night.
Bounce is a very key point for a mattress. As a memory foam mattress, the Lull did a great job on this respect, above average. I could do any positions on this mattress as I like as the slightly firm and elastic foam gives support and comfort.
After testing, the mattress did a good job for the motion transfer. The top layers of foam disperse most of the motion, which is superior to other memory foam mattress to gives you a good night.
The Lull mattress gives you a 100 day trial period and 10 years warranty by the official site. Which means, if you do not like or you found this mattress is not fit for you, the Lull will take it back and refund the full price within 100 days. they will send a courier to your home to pick up your fully expanded mattress for free. As sold online only, the Lull mattress is delivered for free to your doorstep, costing your money without any middleman, and the bed-in-box is convenient for your disassembly and placing.
Who shouldn't buy the Lull mattress?
If you are a store-shopping liker who wants to try the mattress first before order or don't know how to buy things online, the lull mattress is not fit for you as it is sold online only.
If you like firmer spring-mattresses or other softer foam mattresses, the Lull is also not fit for you. As a little firmer mattress, it gives strong support for your body, especially for back-pain and heavier sleepers.
Lull vs Leesa, who is better?
So, both of them are online memory foam mattress manufacturers, and both of them have similar mattress structures and price, which one should we buy?
Structure. We can see Leesa uses a 2+2+6 structure and Lull uses a 1.5+1.5+7 structure. the comfort layer of Leesa is thicker than lull. that's why some customers complain lull is a little firmer than expected.  Firmer than Leesa, but softer than Tuft&Needle.
Bouncy. Leesa uses Avena foam, which works similar to latex+memory foam. Lull use gel memory foam+ common memory foam, both of them can provide pretty good hug feelings and comfortable, not if you are asking bouncy, I guess Leesa is more friendly for sex than Lull. (want a mattress designed for sex? reference nest bedding love bed)
Price. Take queen size, for example, Leesa is $890 on official site, but with special coupons(save extra $75 + $25 gift card). it's even cheaper than lull.
So in my opinion, if you are looking for the best memory foam mattress, I truly suggest you choose Leesa but not lull. Or you can reference another UK brand, eve mattress, who just released in the US in 2016, which got a bright yellow color,  it's very welcomed between young people, especially children.
[wpsm_box type="solid_border" float="none" text_align="left"] I would recommend another 2 new mattress brand, the
Nectar mattress
, and
Awara mattress
,  Especially Nectar, it's the best lover of sleeptips.org. totally 11″ high,365 days free trial period and lifetime warranty
[/su_panel]
 Price, sizes, shipping, warranty, free trial
| size | Price |
| --- | --- |
| Twin | $500 |
| Twin XL | $550 |
| Full | $700 |
| Queen | $800 |
| King | $900 |
| California King | $900 |
Shipping – free shipping, compressed in a box, arrives in 2-7 days
Warranty – 10 years
Trial Period – 100 nights
Made in the USA
Summary
More or less, the Lull mattress is one of the high-quality memory foam mattresses I've reviewed. The medium with slightly firmer foam fits for every type sleepers, especially heavier ones like me. The strong support for your healthy spinal balance, the more cooling feeling of the surface, the good bounce and good pressure relief of the layers, and the soft, good looking cover means to give you best sleep at nights. The Lull mattress will be your better choice for a memory foam mattress.