The Wright mattress is following the trend of selling a bed in a box. Rather than creating a traditional style mattress they have conveniently packaged and are free of the pricey markups that come with most mattresses. No going through the middle man. You can buy your mattress direct and save a ton of money.
The real question, of course, comes down to the performance. Is a bed in a box a good idea and how does the Wright mattress compare with the other similar types of mattresses that are available on the market today. The stigma with a mattress in the box comes down to quality. I am going to go over the construction and features of the Wright mattress and how those features stack up to the competitor and whether or not this type of mattress might be right for your needs.
Structure and layers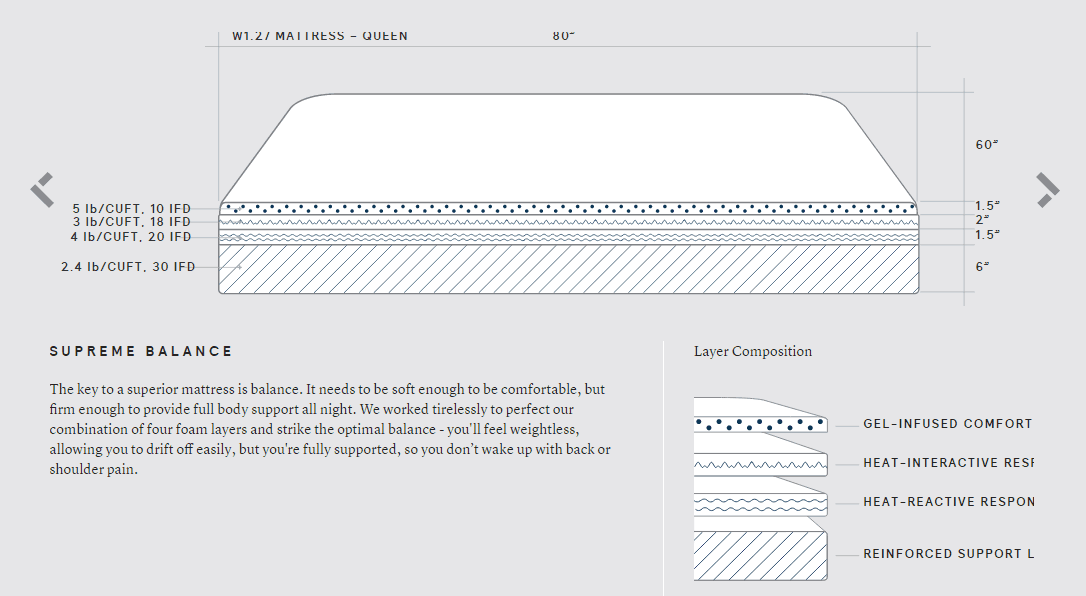 Wright mattress is a totally 11″ viscoelastic memory foam,  which looks like tradition memory foam, but did a better job on motion transfer, support and contouring. The newest version of Wright mattress is W1.27, different from some cheap memory foam mattress, Wright W1.27 doesn't sleep hot at all, actually, this is one of the coolest memory foam mattresses we tested.
The top layer is  1.5″ gel memory foam. They use very high-density memory foam(5 lbs) with gel added into it(to delivery cool sleeping).
The second layer is 2″ heat interactive layer, which is designed to release hot, the material they used in this layer is softer(3 lbs).
The third layer is 1.5″ heat reactive layer, it worked together with the second layer to release hot as well, the airflow design makes sure you won't feel hot all night long. The density of the foam they used in this layer is extremely high as well(4 lbs), it worked as the transition between the comfort layer and base support layer as well.
The bottom layer is  6″ 2.4lb density base foam, with an IFD rating of 32. Which is suitable for firmer seat cushions, mattresses and provide awesome support.
How does the Wright mattress feel?
It's the perfect balance of comfort and support.  it provides superior pressure relief, with little bounce, and zero motion transfer.  Essentially you feel like you're floating on a cloud.  Unlike other memory foam mattresses, they sped up their foam's response rate so that you don't sink too far down into the core, and so you don't feel stuck in the foam.
It combines a plush soft top layer, with increasingly stiffer and firmer base layers, to provide the perfect balance between comfort and support. It rates as a medium-firm mattress, but really combines the best of both firm and soft products.
Personally, I would rate is 5.5-6/10 ( 10 is the hardest) for comfort level. It's not your cake if you prefer an extremely firm feeling, and compared with other medium feeling mattresses, it's softer.
Other features
Wright mattress is actually thicker than most of the other types of mattresses that come in a box. It is 11″, while the industry standard is 10″. Memory foam has become very popular over the years because it offers support to areas of the body that other materials do not support.
The memory foam has a five-pound density which, is quite strong and will comfortably support your body weight while maintaining resistance. This means the foam is not so soft that you sink a great deal, but rather allows the foam to offer just the right amount of resistance for support but it will conform to the curves of your body.
Wright mattress is designed to increase airflow which means that you stay cool and comfortable when you sleep rather than getting overheated. This is especially helpful when you are trying to get a good night's sleep.
Wright mattress has solid construction so you don't have to worry about it falling apart when you take it out of the box. It is designed to last several years and if you have to move it you will not have to worry about it maintaining its integrity.
The Wright mattress has a 15-year warranty and 120 nights free trial which protects you from structural defects and sagging if it is within the given time frame.
Pros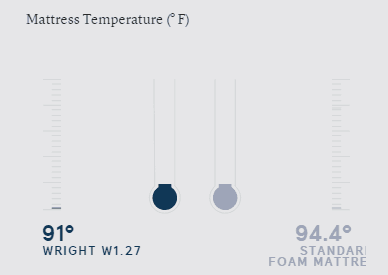 This mattress is indeed a comfortable mattress if you prefer medium support as opposed to soft or super firm. It falls somewhere in between which is satisfactory for most people but if you are one of the individuals that like it extremely soft or firm then this mattress might not live up to your expectations.
The warranty is pretty good so you don't need to worry about the materials or workmanship over the course of the years. If it begins to wear or sag you are covered.
You will keep cool at night so that you are less likely to have trouble falling and staying asleep. Some memory foam mattresses tend to get hot and make you toss and turn because you are trying to keep cool.
You can have the mattress delivered and the delivery people will set it up for you so that you don't even have to worry about handling it. They will get your all ready for a great night's sleep. This service takes the hassle out of purchasing a new mattress.
The memory foam is going to support your body much better than a traditional mattress. It will prevent stress on areas that may get sore when sleeping on a traditional mattress. No lower back pain when you wake up.
Cons
The price of the mattress is considerably more than the competitor's prices. It can almost cost double what you would spend for the other brands. It is up to you to determine if the features that the Wright mattress possess to make it worth the price.
If you need to move the mattress it can be awkward and you will most likely need the help of one or two more people. Traditional mattresses are a bit easier to move because they are rigid, whereas the Wright mattress will bend and twist making transporting it a challenge.
Who is suitable for Wright W1.27 mattress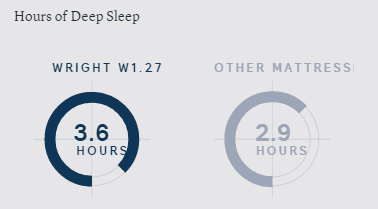 The one who likes a cooling mattress, the gel memory foam worked together with airflow design make sure cool sleeping all night long.
The one who likes high-quality memory foam, Wright is the almost double price of the regular online mattress,  because they use very high-quality viscoelastic foam. It acts like memory foam but did a better job.
The one who prefers longer warranty and free trial on their mattress, the industry standard is 10 years warranty and 100 nights free trial. While Wright provided 15 years warranty and 120 nights free trial.
The one who wants more time on deep sleep, research shows that the average deep sleep time is 2.9 hours, while Wright mattress can provide 3.6 hours of deep sleep.
Compare with other mattresses
Wright is an awesome mattress, but as we claimed before, too expensive for someone. I would rather treat Wright as a luxury mattress brand. If you want a good memory foam mattress within $1,000. I would recommend Leesa mattress(see Leesa mattress review here), whose core is special Avena foam, which acted like the combination of memory foam + latex, Leesa is more friendly for sex compared with Wright. Leesa provided 10 years full warranty and 100 nights free trial.
Another best lover of sleeptips.org is Awara mattress. This is a hybrid mattress, with natural latex on top and gel memory foam as the comfort layer, Awara bed is also 11″ high(same as Wright), it provided a lifetime warranty and 365nights free trial.
Both Leesa and Awara mattress are around $800 (queen size), almost half the price of Wright.
Overall review for Wright mattress
This is a good purchase if you are a fan of memory foam mattresses. It can be delivered and set up for you which makes purchasing this mattress quite convenient. The price is a bit high, but the workmanship is really great and it is designed to hold up for many years.
The quality of sleep is excellent if you like a medium firmness. If all of the features of this product seem appealing then this might just be the right mattress for you.
The company will allow you to do a free trial period to determine if the Wright mattress is right for you so you don't have to be hesitant about giving it a try. If you haven't slept on a memory foam mattress, then this would be the perfect opportunity to discover if it is going to help you get a better night's sleep.