Summary: The Amore mattress 12'' hybrid mattress is one affordable option for a plush mattress which can last the test of time, with unique features that make it stand out from the rest.
Key characteristics:
A super-cooling experience made with natural organic cotton cover, New Zealand organic wool, and graphite infused memory foam.
A split mattress with a dual firmness split design option which makes it easy to choose among different comfort levels.
The Amore beds mattress also features a 4'' pocketed coils set which do not retain heat like most all-foam mattresses do while also maintain lasting support.
There is a unique therapeutic copper ion fabric option for the cover with valuable benefits for your health.
Amore beds mattress is a good choice if you:
Sleep With A Partner – Your Amore mattress can split into different firmness levels. Such a cool feature if you are a couple and each partner has different sleeping habits since there is a soft and firm side on the same mattress! In addition, the mattress is great for couples since it allows minimal motion transfer.
Can't decide which Firmness Level You Want – If you are uncertain about which firmness level suits you best, try the split mattress option, with two firmness levels, one on each side. There is a quiz on the Amore site to help you choose which is right for you.
Want A Balanced Foam Feel – Choose the Amore and you will not be disappointed if you want the pressure relief a memory foam mattress offers without feeling too stuck into the mattress. A great balanced feel which is fairly responsive overall.
Want a cool sleeping experience – The Amore Beds mattress can ensure a cooling sleeping experience due to its premium materials, regardless of your weight or whether you tend to sleep hot.

Amore beds mattress is not the best choice if you:
Like The Innerspring Feel – In the same way, if you prefer traditional innerspring mattresses, you might not like the Amore since you hardly feel it has coils.
Construction   
So, what is the Amore beds mattress made of?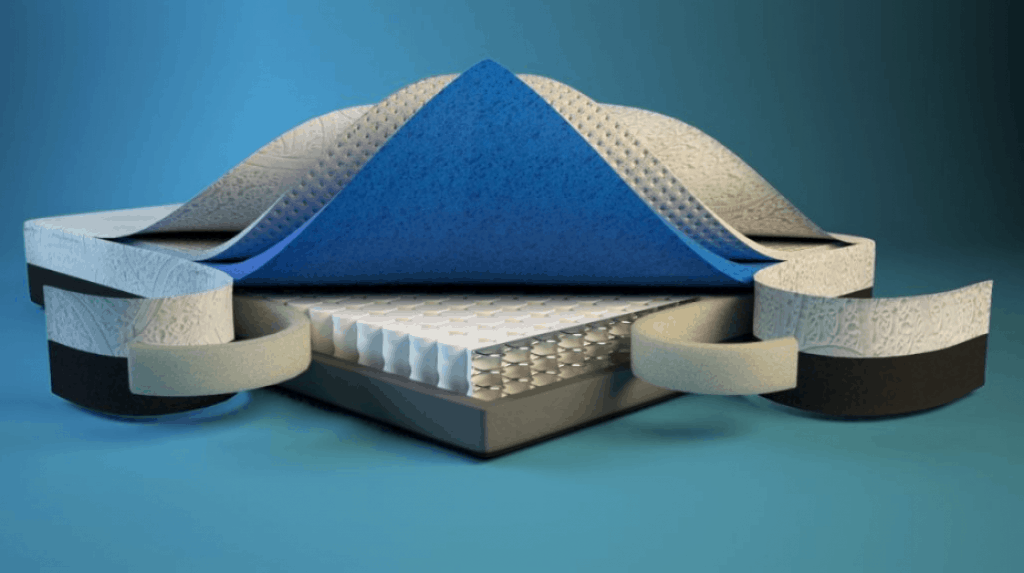 With its new design, it now features a 12'' hybrid foam and pocketed innerspring coil mattress consisting of 4 layers of various materials and the cover on top:
Top Cover. The top layer organic cotton cover is really durable feels nice and is highly breathable and hypoallergenic. In addition, cotton does not cause static electricity. You can also choose the copper-infused fabric cover which has many benefits. These include anti-inflammatory features, anti-bacterial and anti-microbial ones.
Top Layer. This top layer is made of graphite-infused memory foam which is ideal for pressure relief and a nice cooling effect. It also while it distributes body weight evenly and retains heat due to the open-cell structure.
Support Layer. This layer is made of high-density open cell foam which contours to your body and helps keep your spine properly aligned. In addition, it reduces tossing and turning.
Third Layer. Made of fabric-encased, 4″ wrapped coils, which adjust to the contour of your body and supports any sleeping position. There is limited motion transfer due to the fact that the coils are individually encased. In addition, the coils system promotes natural airflow in an attempt to balance sleeping temperature.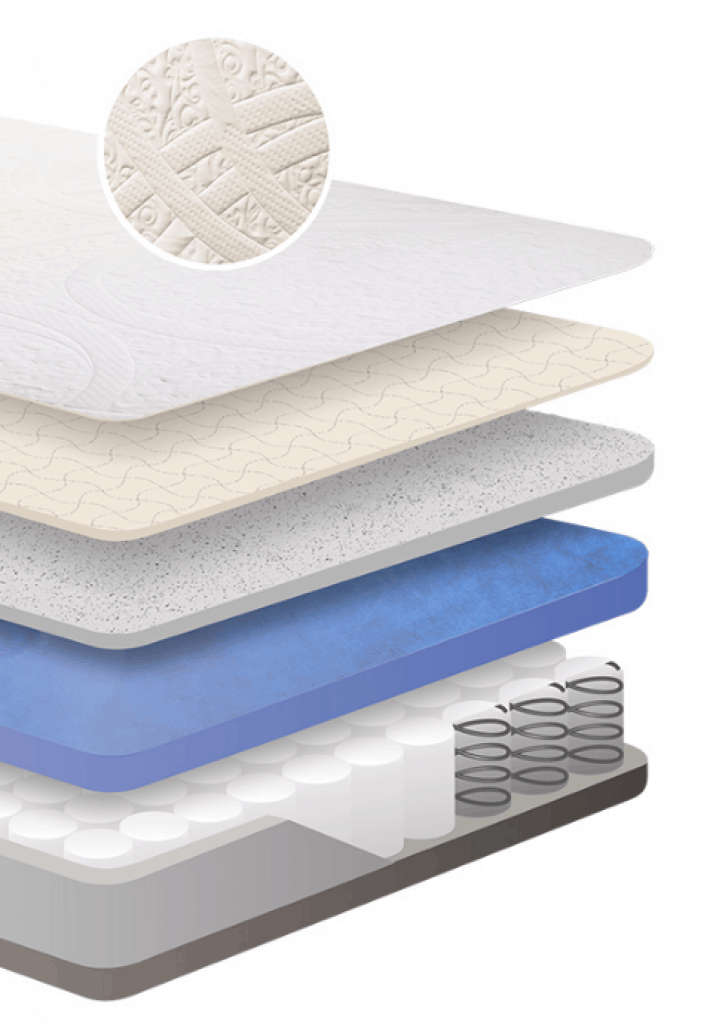 Firmness
The creators of the Amore beds mattress have put considerable thought in regards to firmness. They have designed three personalised firmness options: soft, medium and firm.
As far as the medium feel option, this ranks 5-6 out of 10 in the firmness scale, and seems to offer a decent amount of support and comfort. The medium feel tested, did well to handle the weight of approximately 200-250 lbs.
There is also a dual firmness split design especially custom made to cater for couples. This means that you can choose to split the mattress and have individual firmness settings for each side.
Have a look at this chart below prepared by the Amore beds to help you find the best firmness based on your sleeping preference.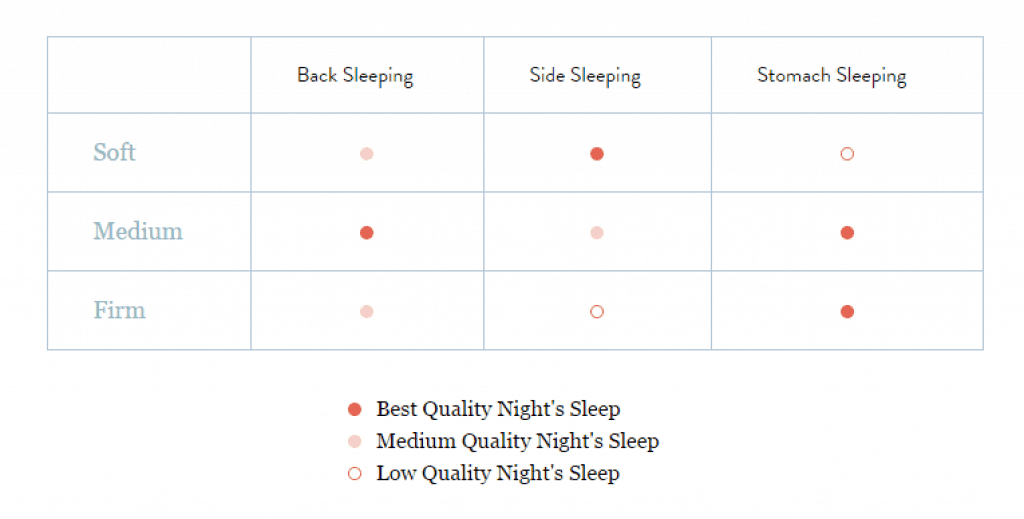 Overall, the Amore offers enough to give and support for both heavy and lighter people, while also caters for all sleeping positions without excessive sinking and a balanced comfort feel.
Amore beds mattress dual firmness split design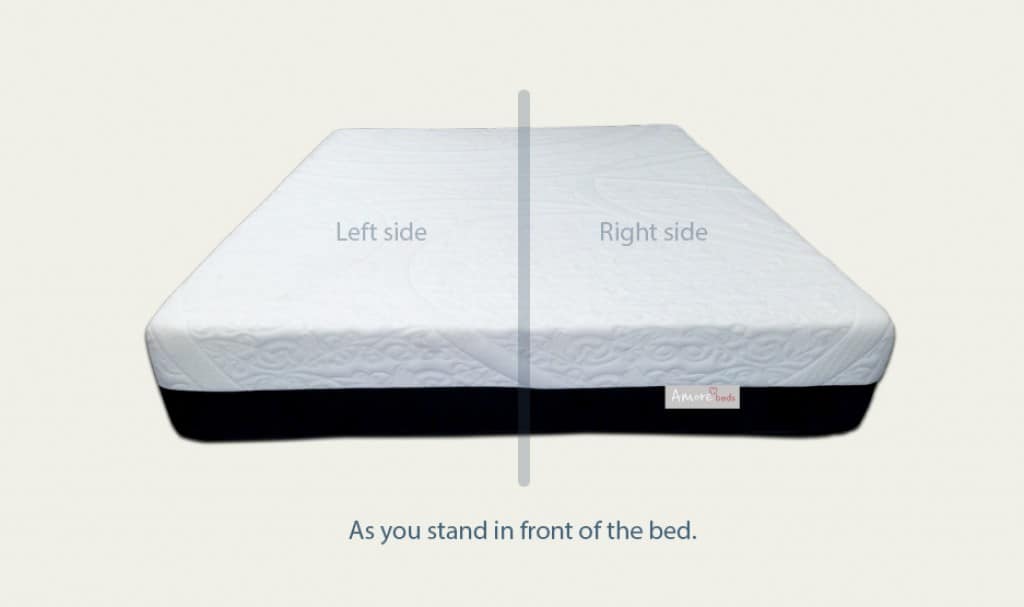 Comfort
The Amore bed mattress is definitely one very comfy mattress. Its hybrid coil and foam construction do great to provide the body contour and hug a traditional memory foam mattress would offer, however leaving out the "stuck" feeling that often comes with all foam mattresses.
The above, in combination with the soft exterior organic cotton cover, give the mattress an overall comfortable sleeping surface which will offer a restful sleep.
Support
The Amore Beds does really well to offer substantial spinal alignment and strong edge support with the inclusion of the pocketed wrap coils in the support layer of the mattress. In this sense, it can handle heavier people and also perform well under the combined weight of a couple. Fortunately, unlike other hybrid mattresses where coils tend to stick out the side of the mattress and are too bouncy, the Amore does not even sense like it has coil construction at all; a positive if you ask us!
Value for money
The Amore Beds mattress is definitely one to consider in terms of its value for money. Although the company has raised its pricing by $75 for each size available, still at $850 for a Queen, it is a decent price for a great mattress. Adding the copper-ion infused cover will raise the cost by $50 if you choose a Twin or Twin XL, while the price goes to $100 for any size bigger than that.
| Size | Price(before coupon) |
| --- | --- |
| Twin | $500 |
| Twin XL | $600 |
| Full | $775 |
| Queen | $875 |
| King | $1050 |
| Cal King | $1050 |
Doesn't Sleep Hot
The Amore Beds mattress seems to handle heat retention really great. Due to its hybrid foam/ pocketed coil construction, the mattress is breathable and there is no chance you get a sticky feeling overnight like it can be the case with some foam mattresses. Plus, if you take the extra option of adding the copper-ion infused cover for an additional charge, you will get an even more improved and cool sleeping experience.
Motion Transfer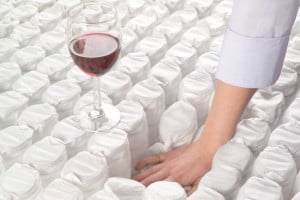 Our impression from testing the Amore mattress as far as motion isolation, is that it does a pretty good job to keep you still during the night when your partner moves. Of course, sinking and motion transfer are greatly affected by individual weight. Nevertheless, our tests revealed that overall it could be said that the Amore beds mattress supports both heavy and lightweight people, due to its pocketed coil construction.
Smell
Once unpacked, the Amore beds mattress has an average amount of smell. Fortunately, the odor does not last for too long, and we could say it dissipates by the next day. Still, there was an average amount. This does not come as a surprise, since mattresses with foam construction have off-gassing due to the foam components.
Materials/Durability
The Amore beds mattress is manufactured in the USA, outside Illinois. Due to the different high quality materials used and the above industry standards thickness (12'' inches), our impression is that the Amore beds mattress could last for a prolong period, which is also evident to the 20 years warranty offered by the company.
Shipping
The Amore beds mattress is delivered free of charge within the United States, within 4-7 business days.
Amore bed comes in a bed-in-a-box option and can be easily unpacked and assembled as the figure below shows.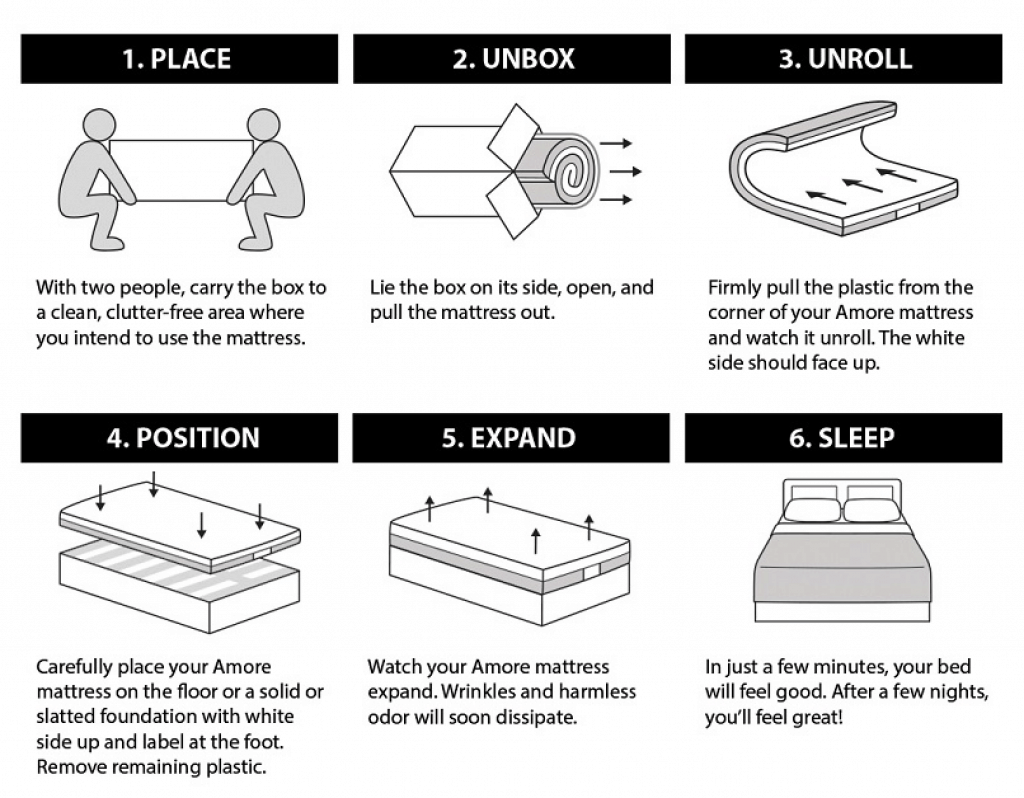 You can choose to place it on any surface, on the floor or a solid or slatted foundation, a box spring, a platform bed or an adjustable base.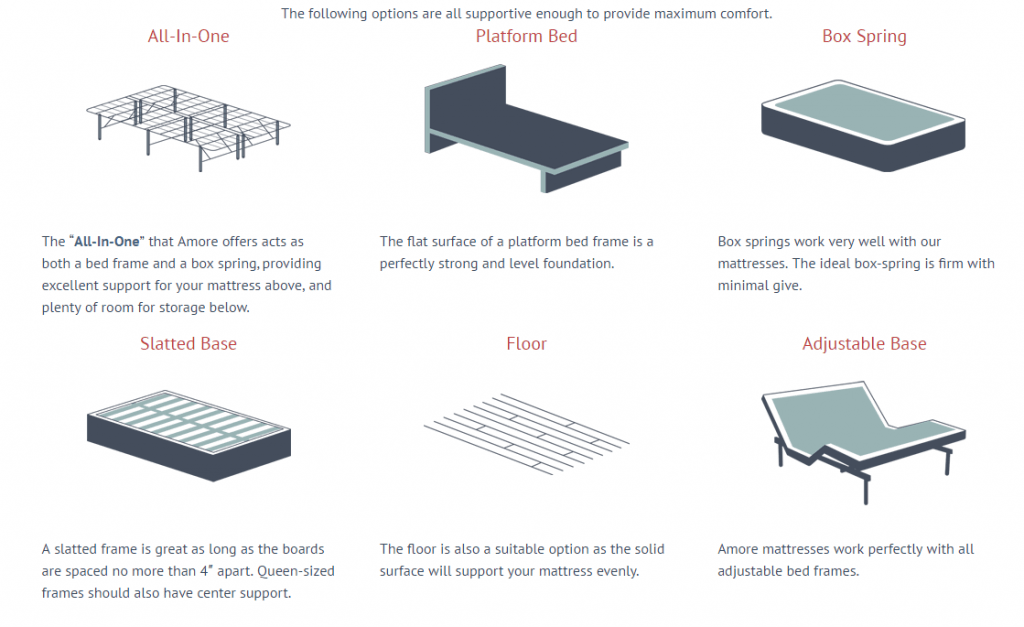 Return Policy/Warranty
Amore beds mattress offers the standard quality service you would expect from a bed in a box online mattress retail. It offers 100 nights risk-free trial, which you can use to test if the Amore is the right mattress for you or you can return the mattress free of charge. However, the company sharing confidence in their product, have expanded their warranty which was according to industry standards, offering now 2 years warranty, which is great and definitely an advantage!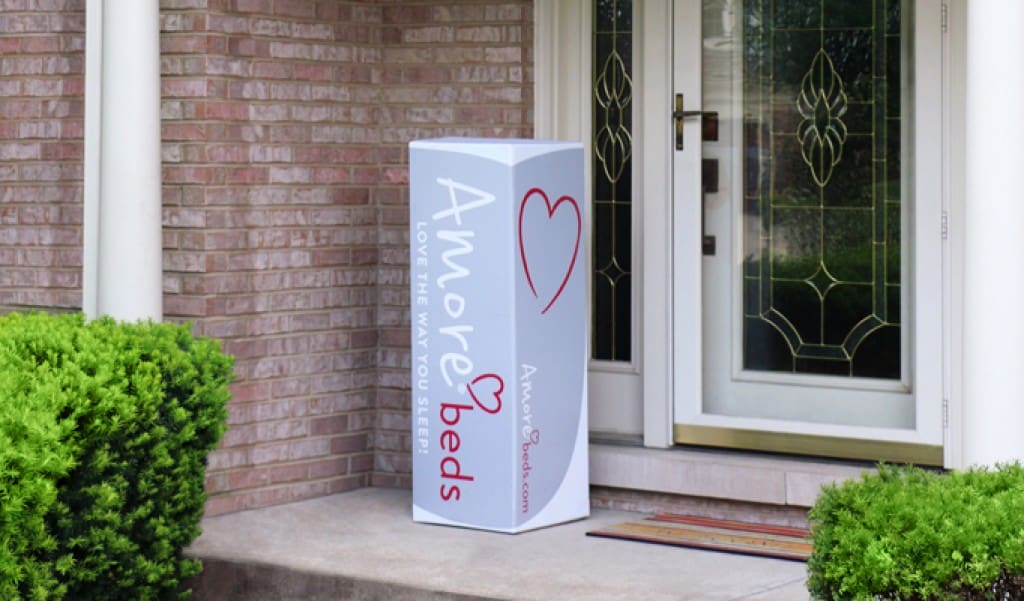 Eco-Friendliness
The Amore Beds mattress is made of premium materials built for superior support, comfort and with an eco-friendly touch. The organic cotton cover is hypoallergenic, keeps you cool and does not irritate your skin. The New Zealand organic wool layer is a natural flame retardant without any chemical treatment, due to its high keratin protein and moisture in every fiber.
Tips: Another Eco-friendly mattress we recommend is Avocado mattress
Highlight
The success of the great combination of all graphite-infused memory foam and pocketed coils, together with the organic cotton cover or copper-ion infused option, as well as the New Zealand wool, all make the Amore a hybrid mattress that stands out from the rest.

Added advantage
If you spend another $100 ($50 for Twin or Twin XL), Amore gives you the opportunity to get copper ion-infused fabric cover. Copper is increasingly acknowledged as a material which can be extremely beneficial for your health since it improves blood flow, relieves pain while also keeps the mattress cool since it is a good thermal conductor.  In addition, it shares some antibacterial and anti-microbial properties. Would definitely recommend considering it!
Final Verdict
The Amore Beds mattress a great hybrid coil and foam mattress which succeeds to deliver a comfortable, cool, and relaxing sleeping experience at affordable price. Having the flexibility to choose between different firmness, and the ability to split the mattress into two different firmness for each side, is a great feature for couples with different firmness preferences.
The materials, construction and overall design of the Amore Beds mattress all work to provide a comfortable experience with a classic memory foam feel and a supportive mattress with minimal sinking, due to the hybrid pocketed coil construction at the same time which is ideal regardless of sleeping preferences and differences among partners.