Overview: The Mars is the hybrid mattress offered by Eight Sleep, in response to the need for a bed that combines comfort with premium support, always topped with smart technology.
The Mars Mattress is ideal if you:
Prefer a medium feel – If you opt for a medium-firm feel, then Mars mattress is just right for you. Neither too soft or too firm, you won't be disappointed.
Decent value for your money – This mattress is sold directly to the consumer and thus succeeds to offer a reasonable price for what it provides to the user.
Appreciate bounce and body conformability – The ideal match if you want a rather bouncy mattress with better than average conformability, as it alleviated pain and offers great pressure relief.
Don't have a fixed position – If you don't have a favorite position to sleep on, or have some sort of preference, the Mars mattress is great as it suits all sleepers.
Sleep with a partner – Mars mattress is great if you are a couple, as it is bouncy and still succeeds in isolation any movements, so you sleep undisturbed.
The Mars Mattress is not the best choice if you:
Prefer a plush feel or a very firm one– This mattress is neither plush nor extra firm. So, if you are more on the extremes, it won't be a favorite.
Don't fancy hybrid mattresses – For sure, this is a hybrid mattress as it doesn't feel exactly like a regular foam mattress, and nor like a spring mattress, despite it includes it in the in-between layers. It is really a hybrid and so if you prefer straight foam or springs, you should look for an alternative.
Are very overweight – Not ideal for people who weight more than 250lbs, as it won't be supportive enough, although the company advertises 300 lbs per side.
Structure
So, what is the Mars Mattress made of?
The Mars Mattress is 11 inches thick and consists of:

Top cover: Simple yet breathable polyester fabric for a soft and elegant look. It is thought that the cover is kept simple to offer the perfect surface to add the Sleep Tracker cover and allow its optimum use.
First layer: 2" of Reactive foam (3lb density). This layer provides a better than average bounce and quicker response time compared to regular foams.
Second layer:  2" of Comfort transition foam (1.8lb density).  This is meant to support your body and provide the transition between the top layer and the coil system below.
Third layer: 4" Pocketed coils sleeved and surrounded by polyurethane foam, which promotes minimal motion transfer, better bounce and restricts heat retention.
Fourth layer: 3" of High-Density Support Foam (1.8lb density). This will act as the support of the whole mattress and provides a durable sleeping surface that will offer proper stability for the layers on top of it.
Highlight:
If you fancy gadgets and tech, then you will probably want to get the Mars + version of this mattress. This features a Sleep Tracker which comes at an additional cost, however, is packed with over 15 cool track features to help you track your sleep.

Note that if you order the Mars + version, your smart cover will arrive in a separate box and once you unpack your mattress and let it fully expand, you should then add the cover and get the Eight app for full access to sleep metrics.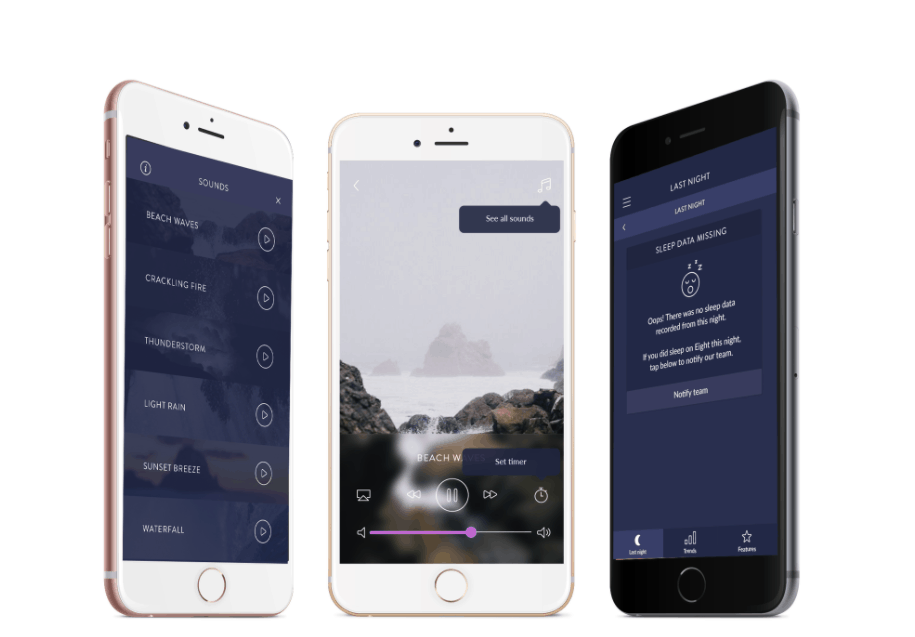 Once you get the smart removable cover featuring this special layer, you will have to download the Eight app and synch your devices to be able to take advantage of sleep tracking patterns, smart alarm function, and warm your bed function which can be different for each side of the bed – a perfect arrangement if you sleep with a partner and have different preferences.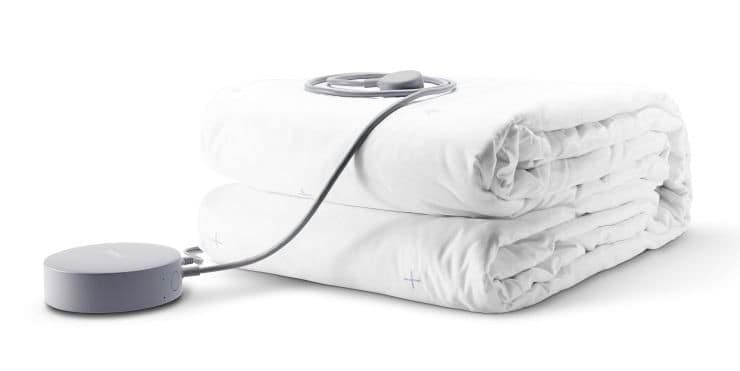 Tracking your sleep stats can help improve your sleep overall, so it might be worth a try if you can afford it and like smart tech. Eight Sleep promises to soon partner with other companies in order to control more products in your home, like the lights, while you can even brew your coffee at the moment.
Added advantage: 
In case you don't want to change your existing mattress but still want to get the Sleep Tracker cover, this is entirely possible, without losing out on any of its functions. The cost will be $299, 99 for a Queen.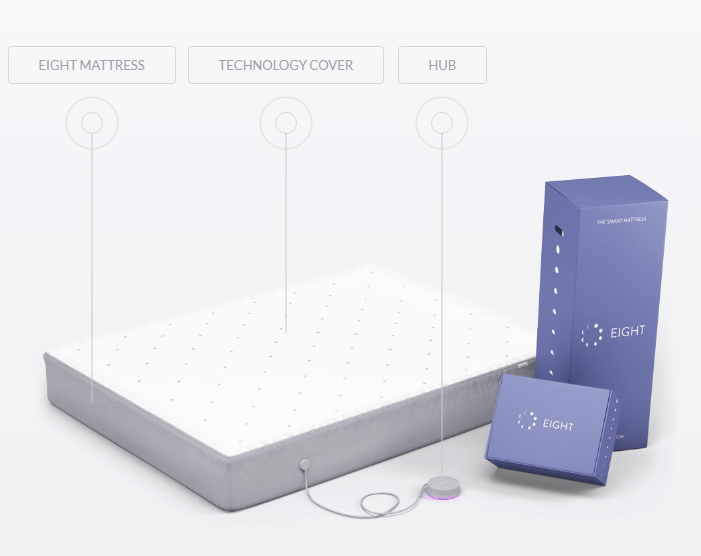 Comfort
You should expect to get a great comfortable feeling mattress with just the sort of body-conforming that will make you feel pain-free and get rid of any pressure in sensitive areas.
You can benefit from the bounciness offered and the improved response recovery time of the reactive foam on the top layer of this mattress, so you sleep comfortably and get the feel of a traditional foam mattress.
Firmness
The Mars mattress features a medium feeling firmness ranked at a 5.5 on the firmness scale where 1 is the very soft and 10 the very firm. This, close to a universal comfort, is considered more appropriate for the vast majority of people.
In this respect, Mars mattress will work really well for back sleepers, as it is supportive and can offer plenty of pressure relief for your lumbar and shoulders to be comforted.
In addition, it is suitable for side sleepers as it helps nurture for sensitive areas like shoulders and hips, whereas you sink deep into the different foams.
The mattress could cater even for stomach sleepers' needs, as it is firm enough to allow them substantial support and comfort.
You should keep in mind that if you are using this mattress with the sleep tracker, the overall feel will be different as the removable cover will give another sense which may not be enjoyable for everyone.

Sinkage and Motion Transfer
This mattress does an exceptional job dealing with motion isolation, as it exhibits little to no motion transfer. It will form the perfect companion if you sleep with a partner, as it won't allow any movement sensed by you or your partner, so you will sleep undisturbed.
What is more, Eight Sleep designers did a great job as the Mars mattress seems to offer just the right amount of sinking without feeling too much stuck.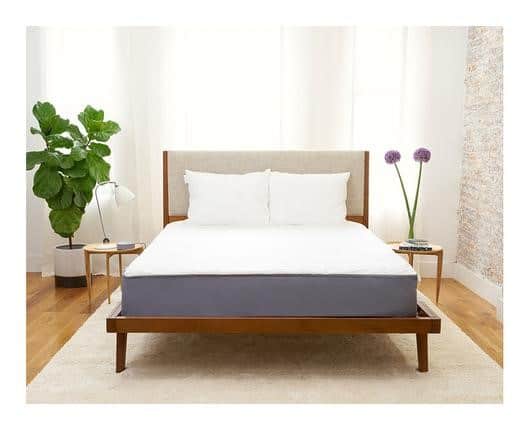 Support
There is little that can go wrong in terms of support if you prefer this hybrid mattress. The Mars mattress is built with care and the coil system and foam layers above and below it, offer a supportive sleeping surface for all sleepers.
The edge support is also better than average, and you shouldn't have trouble sitting at the edge of your mattress although it is not the best we have experienced, thanks to the transition and base foams used which also ensure you can use the full mattress surface.
Still, sleeping on the Mars mattress does feel a consistent feel with no signs of instability.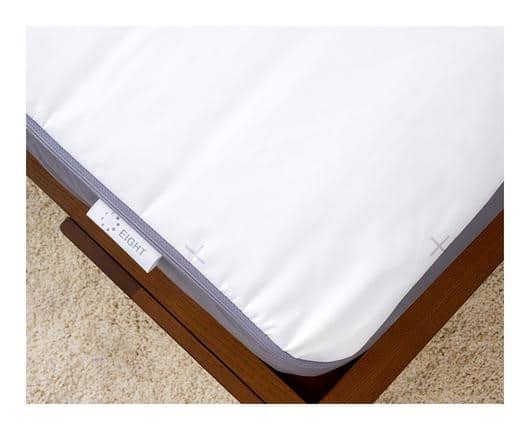 Value for money
The prices shown below are for the plain and the extra versions (Mars +), featuring the Sleep Tracker at an additional cost.
The simple version comes at all sizes, while the Mars + one including the Sleep Tracker only offers, Full, Queen, King and Cal King. Overall, a reasonable price tag for this well above average in terms of performance mattress.
Note that you can take advantage of the Eight Sleep's student discount, which takes 10% off the original price.
| Size | Price for Mars | Price for Mars + |
| --- | --- | --- |
| Twin | $649 | – |
| Twin XL | $749 | – |
| Full | $999 | $1199 |
| Queen | $1099 | $1299 |
| King | $1299 | $1499 |
| California King | $1299 | $1499 |
Doesn't Sleep Hot
It is highly unlikely that you will sleep hot with the Mars mattress, despite it doesn't feature some specific cooling properties or technology. Although you do have the option to warm the bed using the smart cover, there is no option to cool it.
Still, the mattress performs really well and leaves no signs of trapped heat, which means it will work well to provide a night of restful sleep. The top reactive foam works more like latex and helps dissipate heat, which combined with the coils used, succeeds to offer a quite cool sleep.
In fact, the Mars mattress performs better we think compared to the memory foam offerings of the brand, like Jupiter and Saturn.
Smell
You will find that once you unpack the Mars mattress, there is some sort of smell, which is minor yet still noticeable.
It is not unusual for mattresses which arrive in a box to show some off-gassing, yet the Mars mattress is made in the USA and features fewer toxins and harmful chemicals compared to other mattresses.
The recommended thing to do in cases like this, is to leave your mattress air for a couple of hours, perhaps even a day to breathe.
Materials/Durability
Although it has not been around for enough time to be able to judge on its merits in terms of durable, we think the Mars mattress is made of premium materials which promise to last more than average, and also comes enhanced with the growing reputation of the start-up NY Company which built it.
Shipping
Eight offers free shipping for their mattresses, which is always convenient, and you should expect your mattress to arrive in about 7-9 days, using UPS or FedEx.
Returns are also free of charge, which is good to hear. In case you are not around when the courier driver arrives, your package will be left at the door, for you to unbox it.

The Mars mattress can even work great on any surface pretty much. It is best to opt for a foundation that will offer a flat and balanced surface, so that you take full advantage of the mattress' features. This will mean you ensure even weight distribution and also makes your bed look overall more appealing as it will offer the sort of balanced surface you need.
Return Policy/Warranty
You will find that all Eight Sleep mattresses come enhanced with a typical 10-year limited warranty, according to industry standards. This policy ensures you are protected over manufacturers' defects and wear off due to systematic use over time.
You also can take full advantage of Eight Sleep's 100 night trial period, which gives substantial time to test your Mars mattress and see if it is the right fit for you. Otherwise, you can claim a full money refund and return your mattress free of charge.
Final Verdict
All things considered, this is a decent choice by Eight Sleep if you want to take advantage of the perks a good hybrid mattress has to offer, since it is appropriate for any kind of sleeper and can be especially good if you are not used to memory foam, and prefer plenty of bounce when you sleep.
For sure, the Mars mattress won't keep you restless as it doesn't allow any motion transfer, whereas it is particularly good at alleviating pain and relieving sensitive areas. This is due to the combination of foam and pocket coils, leaving you with quite comforted and also sleep cool, thanks to its construction.
As with any Eight Sleep mattress, you can take advantage of the Sleep tracker layer at an additional cost, featuring a removable cover and supplemented with lots of functions to track your sleep patterns.
If you are a fan of gadgets, this will be an ideal choice for you. Especially good for couples, with its warm bed capability. We think this mattress performs slightly better compared to the Alexander Hybrid, which features the coils as a bottom layer and shows improved motion isolation ability. Reasonably priced, the Mars mattress will not disappoint for sure.