Leesa Sleep manufacturers Sapira Spring Mattress along with other foams mattresses as well. Sapira Spring is highly comfortable and top quality mattress for people who prefer excellent body support from their beds. It boasts cooling features integrated well within the design and the fabric of the mattress. People who don't like to sleep on their sides will be happy customers with this bed.
Key Characteristics
The mattress is made of non-toxic materials, and the manufacturing process doesn't include in harmful chemicals.
Sapira mattress comes with a ten years warranty that will keep you protected against any issues related to materials or workmanship.
Sapira Spring Mattress comes in different sizes including king, queen, full, twin XL and twin while its height is 11-inch.
Leesa Sleep offers a 100 night trial period for you try their product and if not satisfied send it back for a refund.
Leesa Sleep aims Sapira to be the most luxurious mattress in a box package.
Sapira Spring Mattress is best for you if you
Sleep hot and get up sweaty and sticky.
Prefer to sleep on your stomach or your back
Have a tight budget and do not want to spend too much on your mattress and try something new.
Are seeking luxurious comfort
Are looking for innerspring feel
Sapira Spring Mattress isn't best for you if you
Prefer side sleeping
Prefer motion transfer and avoid sinking issue
Construction
What is Sapira Spring Mattress made of?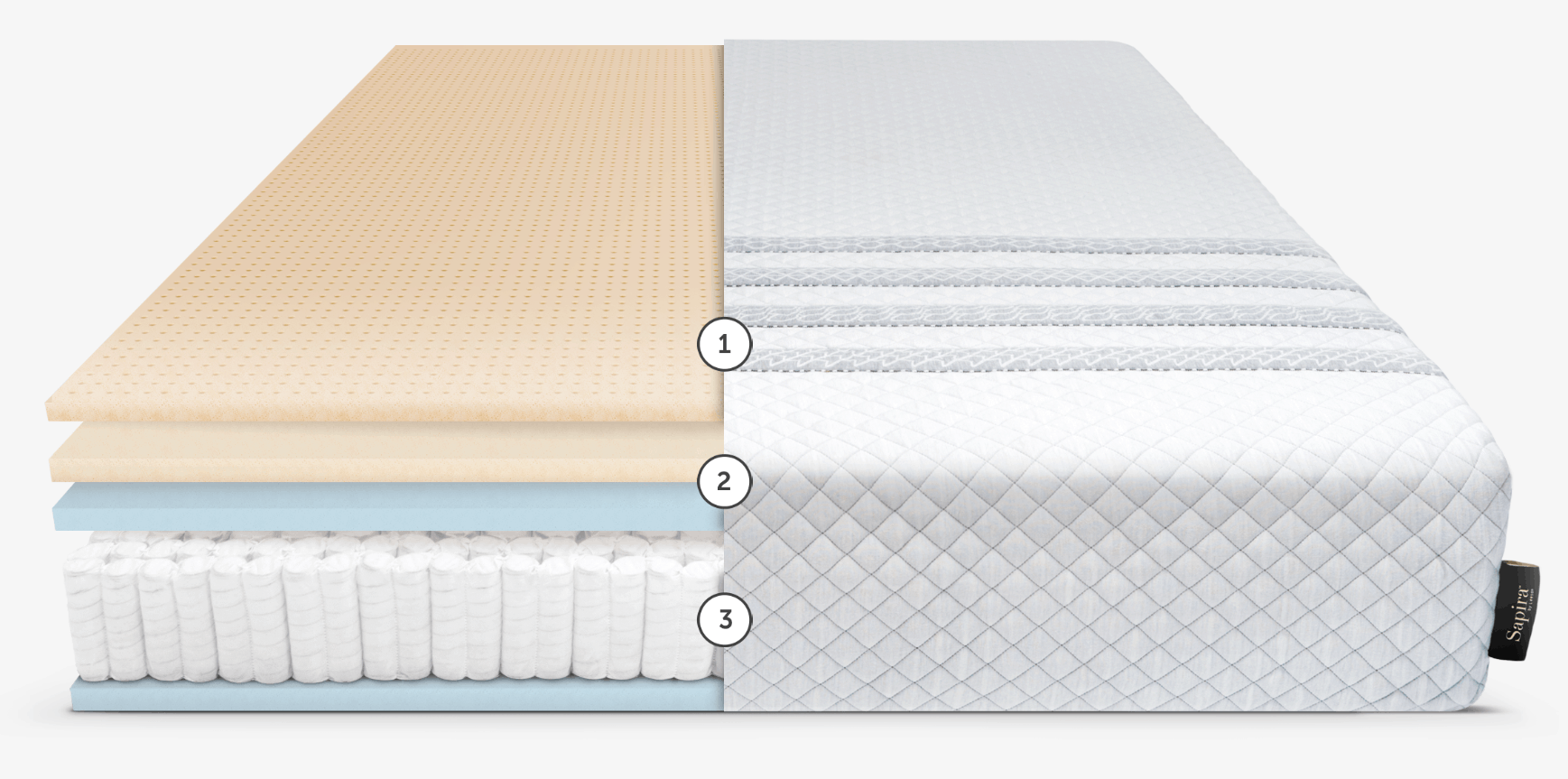 Sapira Spring Mattress is 11-inch in height and houses five different layers of which are listed below,
1-inch core support base layer with IFD 32 density
6-inch pocket coil system with Quantum Core technology and 14.5 gauge
1-inch of another core support foam base with IFD 32 density
1.5-inch contouring memory foam with IFD 9 density.
1.5-inch Cooling Avena Foam layer at the top with IFD 20 density
The mattress is also equipped with a seamless iconic four-stripe cover for additional comfort. It keeps the body well balanced with its edge-to-edge support. Leesa Sleep has used top quality materials in the making of these layers, and the densities are also durable in each mattress to eliminate the feeling of rolling-off.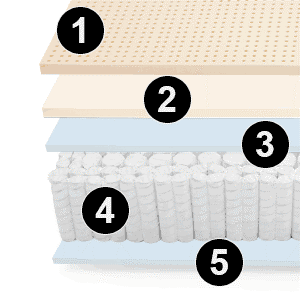 The top 1.5-inch Cooling Avena foam layer is equipped with the technology to keep your body from heating at night, and you wake up fresh without that sticky feeling. All the layers are provided with proper densities so that they can work well and keep your body posture better whether you sleep on your back or on your stomach. The multi-layering of the mattress also ensures that you don't feel any numbness in the morning. The motion insulation technology offers unmatchable body contouring and virtually zero motion transfer so you can enjoy your sleep even when your partner moves a lot.
Firmness
The luxurious Sapira Spring mattress is among the universal comfort mattresses and does not come with different firmness levels. It has firmness level of between medium to high which makes it an ideal mattress for most of the users that prefer standard firmness.

Due to its coils system technology, it is capable of enduring different weight pressures as well. People who weigh over 180lbs won't feel a sinking problem when they sit or sleep in the bed.
Comfort
Sapira mattress from Leesa is boasted quilted foam cover and enriched with Sapira Cooling Fabric to ensure that you experience a high quality sleep at night. While lying on the back, you won't experience much sinking when all your body weight is evenly distributed across the mattress. But if you prefer to sleep on your sides then this bed might not be your preferred choice. Because it is made of high-quality fabric and foam layers it will last for a reasonable period. With high-density foam layers, it handles with motions transfers very well, and you can sleep with your partner with ease.
Support
The support level of Sapira Spring mattress is excellent because its 5-layered construction offers top quality comfort and it does not give you a soft feeling mainly if you don't weight much. However, for the heavyweight sleepers, the mattress will sink, and the lightweight sleepers tend to roll down towards them; which end up on the drawback. But you do feel excellent pressure relief as the mattress is very responsive and you will feel to lay or sit on it rather than on it.

Value for money
Sapira Spring Mattress is packed with features, and Leesa has used state-of-the-art technology to manufacture this mattress line. There are various sizes of the Sapira mattresses available at very competitive prices. The top-notch design and superior quality materials that you can buy at a very affordable price make Sapira your preferred choice.
| Size | Price |
| --- | --- |
| Twin | $975 |
| Twin XL | $1,075 |
| Full | $1,275 |
| Queen | $1,475 |
| King | $1,775 |
| California King | $1,775 |
Don't Sleep Hot
The mattress has Cool Avena technology feature that contributes effectively towards keeping you cool at night. This technology is integrated into the top layer of the mattress which boosts air flow and also enough bounce so you can move with freedom. Numerous memory foams make you feel sticky and moist, and it contributes towards the smell of the mattress. The phase change material of the mattress within its top cover keeps you cool at night so that you can get up fresh and rejuvenated in the morning.
Motion Transfer
The high-quality hybrid memory foam has motion transfer capability to absorb the movement without causing any disruption to you or your partner. You will only notice a slight shift and nothing more than that. It does stand well against most of its rivals, but there is room for improvement as well. The durable base foam and a transition layer of the mattress keep the edges well-supported. You might get a feeling of sinking on the sides, but the edge support is very decent in Sapira Spring.
Smell
Due to its Cooling Avena technology, the mattress works well to keep the scent off the bed. With this top layer, the breathability of the mattress remains steady, and it also does not make things sticky for you when you sleep. It turns out to be its distinct feature because of most of the mattresses with memory foams gas-off when you unpack them or even sleep for a few nights in them.
Durability & Longevity
Sapira mattress has an innovative Poly-Lycra blend that makes the bedding very smooth yet reliable night after night. The durable fabric top ensures that the layers are well-protected and ensures long-lasting performance. The high-density layers of the mattress are equipped with plenty of strength which makes the bed perform well. It not only provides stability to the mattress but it also enhances support for an extended period.
Shipping
You can order you Sapira Spring mattress online right now, and the company will deliver you mattress within 1 to 5 working days after taking 3 to 5 working days to prepare your order and pack it for you. Leesa Sleep uses the delivery services of UPS.
Warranty/Return Policy
Leesa Sleep ensures that when you buy your Sapira Spring Mattresses, you should feel satisfied with your purchase. The company offers ten years limited lifetime warranty to cover all material or workmanship issues with the mattress you have ordered. Leesa Sleep also provides 100 Nights risk-free trail for your money back guarantee
Eco-Friendliness
Sapira Spring Mattress is proudly made in the US and is certified under CertiPUR-US. It is made without any ozone depleters or PBDE flame retardants. The mattresses don't involve mercury, lead or any other heavy metals and are entirely environmentally friendly.
Highlight
The five-layered mattress makes sure to provide you with strong support for your comfortable sleep. It comes with motion transfer feature integrated into its smooth top layer to keep stay cool during your sleep and the mattress does not gas-off too. Your purchase will comes with a 100-night risk-free trial and ten years warranty against any craftsmanship or material issues. During this trial, if any day you don't feel comfortable with the mattress, you can send it back, and the Leesa will refund your money.
Additional advantage
The company offers many benefits to its customers, for example, you can enjoy free home delivery and can also sign up for their newsletter to subscribe to different offers and discounts.

Final Verdict
If you look to invest in a good quality luxurious mattress, then you won't find a better option than Sapira Spring Mattress. This bed will serve you well if you prefer to sleep on your stomach or back because it is firm and comes with edge support as well. The product is made of high-quality materials and fabric, and it will last longer than you think. Your purchase is also covered under the 100-night trial warranty and ten-year warranty.