The Dream Cloud incorporates all the innovative technologies in the mattress world to deliver a unique product to the user. The Dream Cloud Premier is a hybrid mattress and includes the best latex foams, memory foam, tufting and air coil technologies. The end result is a product that is durable, breathable, supportive as well as comfortable. The Dream Cloud Premier comes with a lifetime warranty and a 1-year sleep trial. This is truly remarkable as most other companies merely offer 3 months' worth of a sleep trial. It's extremely comfortable as well as being relatively affordable.
Key Highlights
The Dream Cloud Premier is a Luxury Firm mattress, providing you with the same comfort as luxury hotels do.
The Dream Cloud Premier is available in four different sizes: Queen, King, California King and Full.
It is a hybrid mattress integrating latex, memory foam, coil and tufting technologies, all in one.
It comes with 8 unique layers with a Cashmere blend quilted top for the ultimate comfort and support.
A height of 15 inches which is extremely suitable for folks of all sizes and weights.
The Dream Cloud Premier foam comes with an ever long warranty meaning the warranty extends a lifetime.
The company offers a 365 night trial period you to adjust to the feel of your bed.
The Dream Cloud Company directly ships to your doorstep for free
It comes with a memory foam that contours to your body to reduce pressure points.
A memory foam with gel infusion, as well as the coils, ensure that proper airflow through the mattress is maintained.
Dream Cloud Premier is good for you
If you are a hot sleeper and prefer mattresses that can help combat your rising core temperatures.
If you don't like off-gassing for a long time and prefer mattresses whose smell gets warded off quickly.
If you like to sleep on a foam which will not sink and manages to sink correctly and effectively.
If you like to sleep on your sides or on your stomach as it caters to your different needs for a bed which will cradle your body.
If you like a medium-hard firmness; since it has a firmness rating of 6.5/10.
Dream Cloud Premier is not good for you if
If you are low on budget; as this Dream Cloud Premier is fairly expensive.
If you like your mattress delivered to you in short time as the shipping process is sort of slow.
Cover
The Dream Cloud Premier has a soft cashmere blend cover quilted with a soft foam for a EuroTop feel. The quilted foam provides a little softness and plushness to the user. The cover is thin enough to ensure breathability. It wicks away all moisture to ensure a cool night of sleep. Aesthetically speaking, it provides a luxurious look with a white top. The white is broken by the nude color at the sides on which the logo of the company is embossed with blue thread.
Layers And Structures
The Dream Cloud Premier is constructed from a unique blend of 8 layers. The layers are: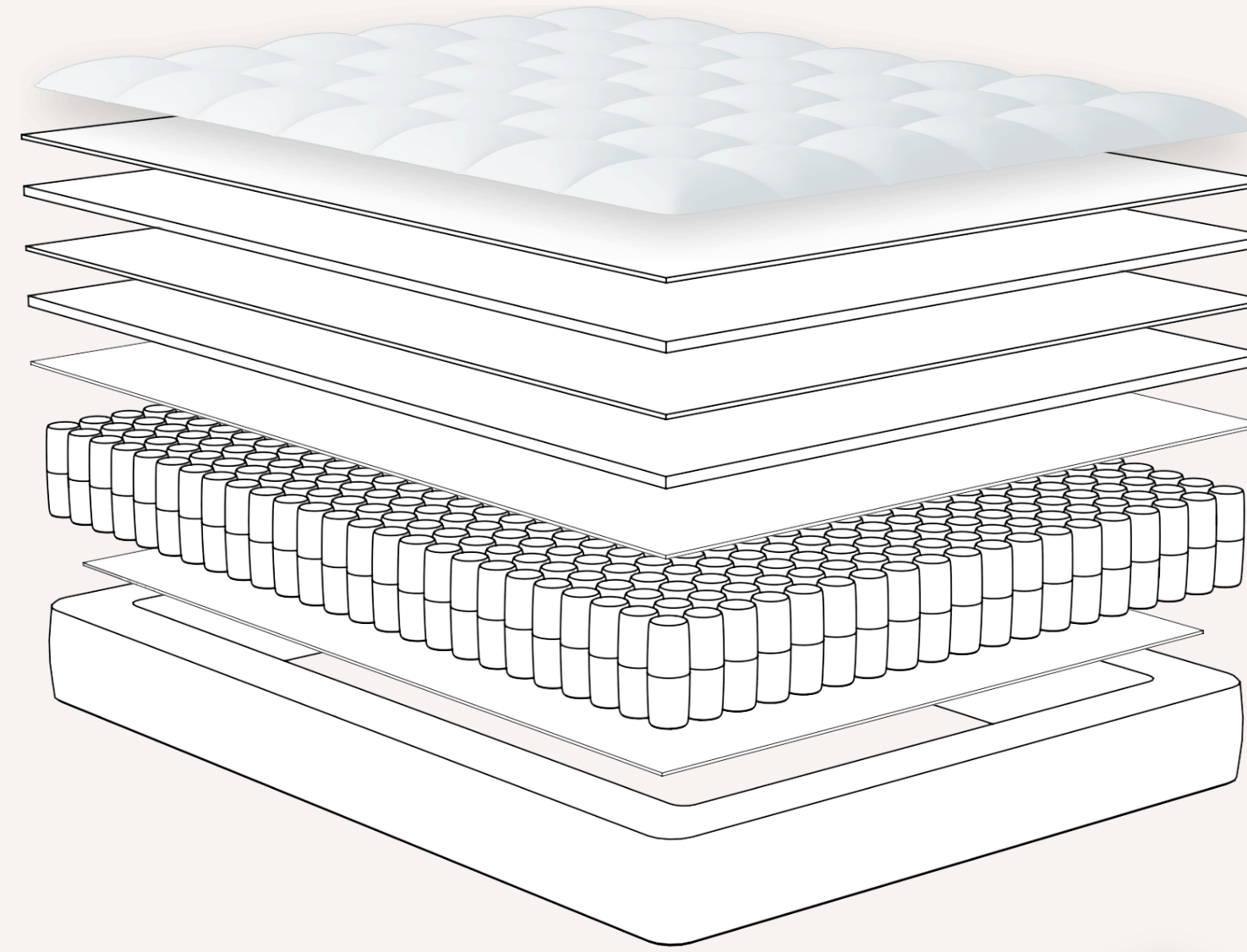 It conforms to your body shape to reduce pressure points. The gel keeps the foam cool to touch. It provides breathability and does not allow heat to get trapped inside the mattress.
Super Soft Quilted Memory Foam
The super soft foam allows the user to sink into the mattress. This layer is what makes the mattress super soft and makes it comfortable to sleep on.
The Natural Latex layer is made of completely natural materials which ensure this model is non-allergenic and does not smell. The Latex layer provides a much-needed bounce to the foam and enhances the contouring properties.
Dream Plush Supporting Memory Foam
The supporting memory foam is very dense to provide support and firmness from the top layers. This layer ensures that you do not feel trapped inside the foam.
Super soft super dense Memory Foam
The super dense memory foam is great for spine alignment. It cradles your spine for the ultimate support. This helps reduce any stiffness or soreness in the back.
The Micro coil compression system provides support and bounciness to the user. The coils enable the bed to conform to the body shape.
The high-density memory foam provides support to the user's body as well as all the layers above it.
Firmness and Feel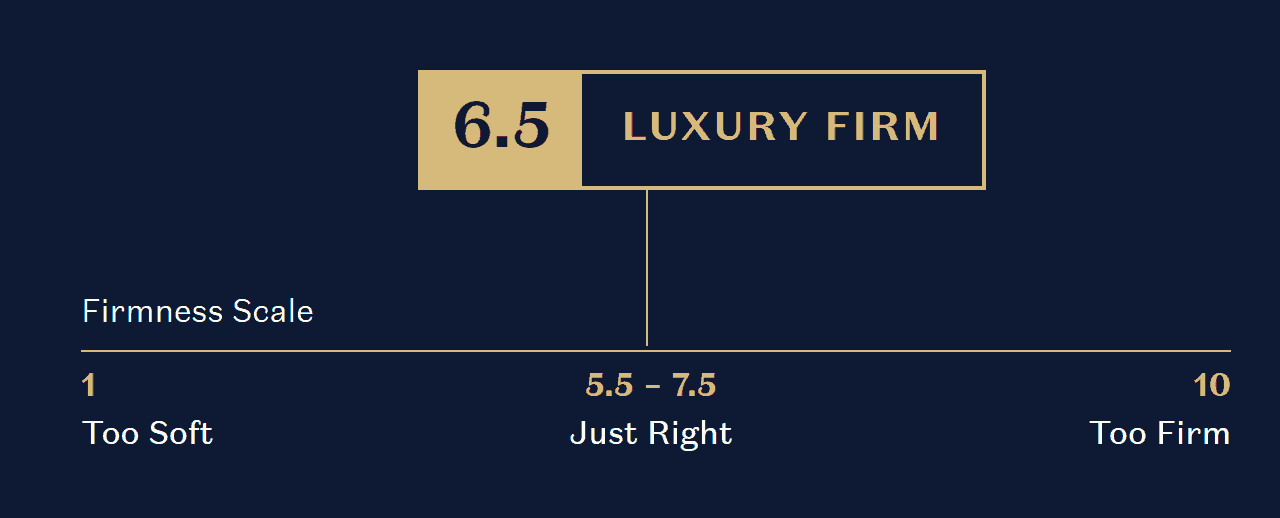 The Luxury foam comfort level of the Dream Cloud Premier is the most suitable comfort level for all types of folks. This is great for all those users who want a luxury hotel kind of comfort in their mattress. It provides the user with a plush comfortable feel while providing a firm support for the user. It ensures that it hugs you, however, it does trap you inside. This version is great for all kinds of sleepers whether they are the stomach, back or side sleepers. It is a great option for couples who have different firmness preferences. If you prefer a softer foam while your significant other prefers a firmer one, then a medium level of firmness would suit you best. If you cannot decide whether you would like a softer or firmer model, then this mattress version is for you.
Comfort
Dreamcloud Premier is designed for the ultimate comfort experience. The medium luxury firm comfort level is perfect for providing the comfort you need. The most prominent problem with most memory foam mattresses is that they tend to trap heat inside them and thus result in the user feeling hot while they sleep. A memory foam with gel infusion has a special cooling gel that keeps it cool while you sleep. The soft plush euro top ensures that there is sufficient bounce so that you do not feel trapped inside the mattress. The super soft memory foam imparts a softer plush feel to the mattress.
It aligns the spine accordingly so that there is no stiffness or pain in the back.
Support
The Dream Cloud Premier is specially designed to provide you with the ultimate support without compromising on comfort. The bottom layers of the model provide support to the body as well as to the other comfort layers at the top. These layers make the mattress durable. The coils and the base memory foam conform to the shape of the body to ensure there is maximum contact between your body and the mattress. This helps in distributing your weight evenly across the surface of the foam and thus reducing pressure points.
Value for Money
The Dream Cloud Premier model provides a luxurious experience to all users at a fairly expensive price. The price range is shocking when you compare it to other brands. The prices of the different sizes along with their dimensions are mentioned below:
| Size | Dimensions | Price(After coupon) |
| --- | --- | --- |
| Full | 54 x 75 x 15 inches | $999 |
| Queen | 60 x 80 x 15 inches | $1,199 |
| King | 76 x 80 x 15 inches | $1,299 |
| California King | 72 x 84 x 15 inches | $1,299 |
Dreamcloud now provided
$200 OFF with GBM200 on their official sit
e limited time, don't miss it.
Update on 10/04/2018: Dreacloud launched Affirm recently. As low as $67/month(queen size) at 0% APR after discount.

Breathability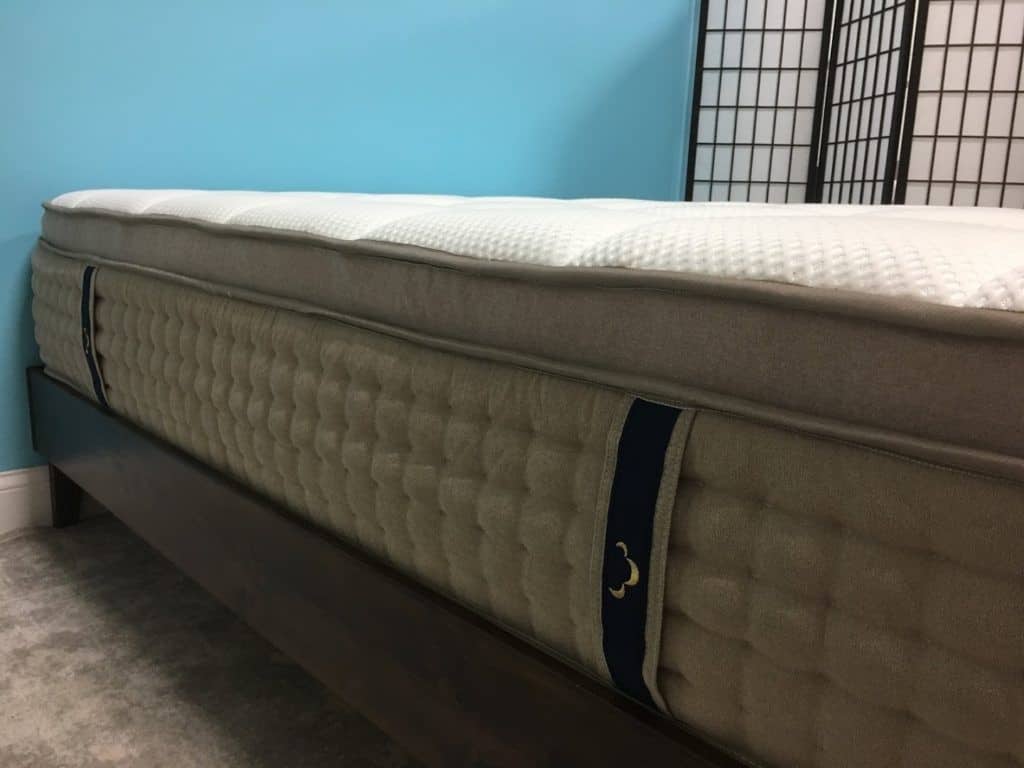 As mentioned before, the most annoying and uncomfortable problem with the memory foam is that it tends to heat up a lot. The heating up is usually what causes a lot of sweating in the night. This is extremely uncomfortable for the users as they wake up drenched in sweat. A memory foam with infused gel effectively eradicates the problem by cooling down the bed and allowing heat to flow through the mattress instead of becoming trapped in the foam.
The other layers such as the micro could also allow air to flow through the foam to properly regulate the body temperature. One of the most rewarding qualities of the Dream Cloud Premier is perhaps the superior breathability.
Motion Transfer
One of the most important features to look out for when shopping for a sleeping option is its ability to prevent motion transfer. If you are a sensitive sleeper and share your bed with a partner that turns or tosses a lot in the night, you might find yourself waking up at the slightest movement. This can disturb you and become extremely annoying to you. The Dream Cloud Premier's various support layers prevent a motion from transferring. This helps you sleep comfortably through the night.
The support layers are soft enough to provide a sufficient bounce while preventing a motion from transferring at the same time. This is a result of multiple technologies incorporated in the mattress.
Alignment and Contouring
The super soft super dense memory foam enables proper spine alignment. This is due to the fact that the foam can easily conform to your body shape and help to reduce any pressure points. These pressure points are mainly responsible for spinal health problems. This mattress effectively eradicates this problem. You will find yourself healed after a proper night of sleep. Most spinal sufferers find mornings to be harder as they wake up with their spines stiff and hurting. However, with the superior alignment and contouring foams, this model will help you wake up fresher and happier than ever before. If you want a pain free life, then this foam is for you!
Off-gassing
Since the foam is made of all-natural materials, you can rest assured that the mattress produces almost no off-gassing. Another common problem of the memory foam is that they tend to produce a lot of volatile organic compounds that are not only harmful to you but, harmful to the environment as well. The Dream Cloud Premier effectively eliminates this problem by using special gel memory foams which do not give off gases. If you find the new foam smell annoying, then you might love this mattress. This model does not smell and thus will not cause any allergic reactions.
Even if there is any smell that is evident, it will quickly dissipate in a matter of days.
Distribution of Temperature
The Dram Cloud is able to effectively dissipate heat due to its intelligent design and strong mechanism. Sleeping hot or sweating is a tedious situation to be in and it is something a lot of people suffer with; those who have foam mattresses would agree since those beds are not capable to dissipating heat but rather they generate more heat and do not promote heat dissipation and air circulation at all. However, the Dream Cloud Premier manages to distribute the heat generated evenly.
This is due to the layer consisted of innerspring coil present in the mattress itself which promotes air circulation and temperature distribution. The most special part of the Dream Cloud Premier is that the latex and gel foam layers attached to the cashmere blend top cover and then combined with the hybrid coil construction help to not only give comfort but also helps to keep it cool at all times. This becomes an ideal model for hot sleepers and even generally for everyone.
Final Verdict
The Dream Cloud Premier Mattress is an excellent choice if you wish to have a premium hotel-like experience. If sports efficient mechanisms to provide the best kind of experience while sleeping. It is fairly expensive, however, it is completely worth the money. It is an ideal choice for an array of different types of sleepers.